On Saturday, 3rd August 2019, SONEUK organised family gathering as an annual programme in Nottingham (Gurkha Kitchen, Nottingham, 131 Glaisdale Drive, W Nottingham, NG8 4GY) from 15:00 hrs till midnight.
BBQ, Foods, Music, Bhajan and Dances were major highlights of the programme. 28 SONEUK Familiy members with over 75 peoples from accros the UK, all the way Kent, London, Birmingham, Scotlands, Southhampton, Nottinghamshires and arround attended the gathering. Some families travelled one day before and managed to visit near by places and pleasure centers such as Mount Cook, Matloc bath, Height of Abraham, Guliivers kingdom theme park.
EC member Bed Bhattarai with IT support from Secretary Sanyukta Shrestha run entertainment
programme begain with the national athem played by Master Sanyojan Shrestha, Son of Sanyukta Shrestha. Ganesh Thapa, Co-ordinator, North England, presented his holy bhajan,
"Hare Krishna Hare Krishna, Krishna".
The couple dances were performed by Chairperson Shailendra Shrestha and Bandana Shrestha followed by Professor Keshav Dahal and his wife Mrs Anjana Dahal, then by Bed Bhattarai and Shashi Bhattarai. The second gerneration performance was an extraordinary dancing by Ushika and Urvika Parajuli, daughters of Genaral Secretary, Umesh Parajuli. Then floor opened for group dances in Nepali, Hindi and English songs until the closing at midnight.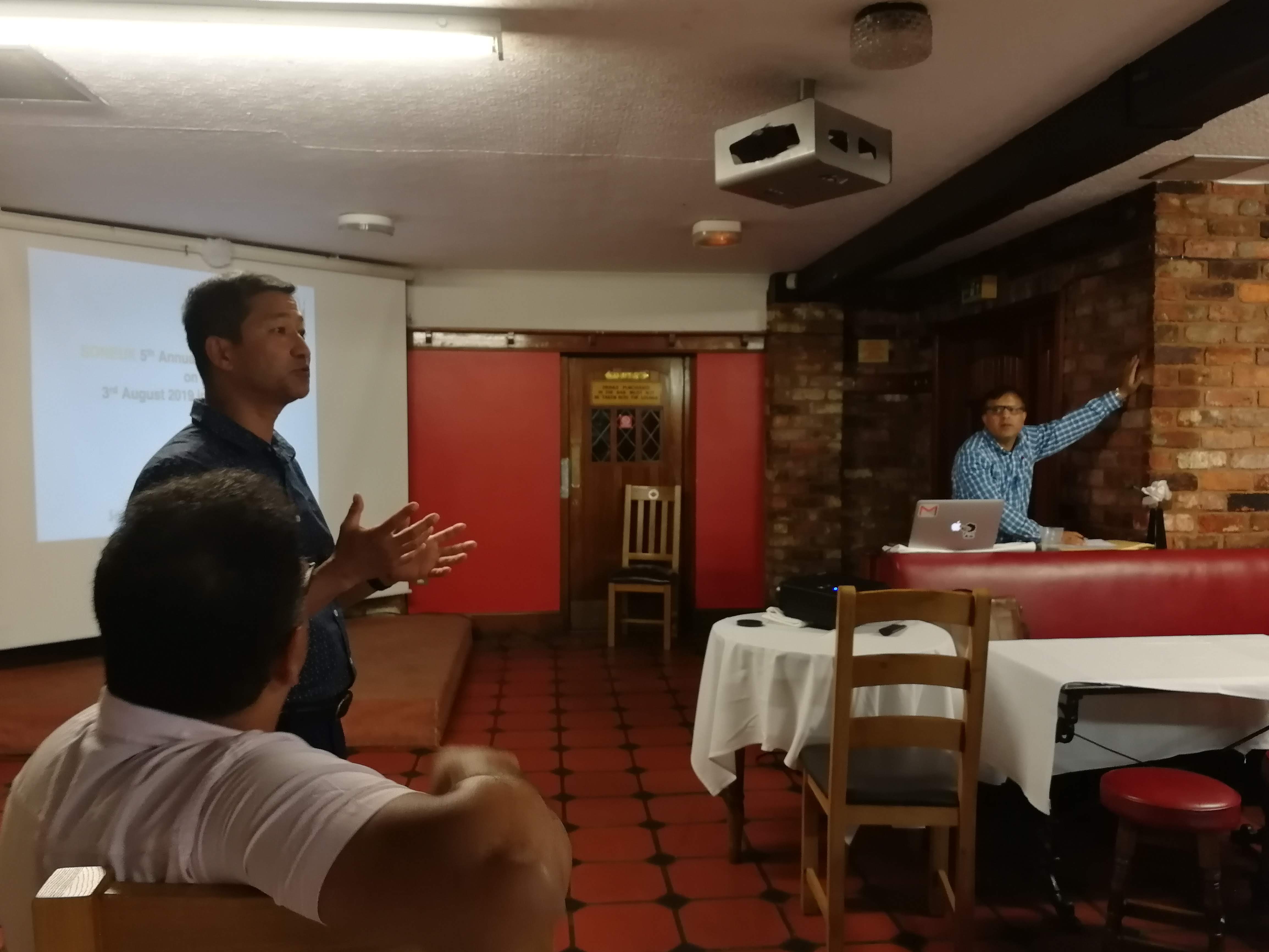 Annual General Meeting (AGM)
Utilising some time of Family gathering, SONEUK also held AGM on the same date
(03/08/2019) at Gurkha Kitchen, Nottingham
Programme:
17:30 Registration and Refreshments
17:45 Opening/Welcome (by General Secretary: U Parajuli)
17:50 Annual Report brief and plan for forthcoming year (2019/20) (by Chairperson: Mr S K
Shrestha)
18:20 Floor Discussion
18:45 Closing