20th November 2021
The Society of Nepalese Engineers in UK (SONEUK) has successfully conducted a one-day training session on Cybersecurity which attracted an active participation of 22 engineers and managers. The training programme titled "Improve Your Cyber Hygiene and Protect Digital Identities" aimed at providing useful information to protect Internet users from cyber-crime.
The training was divided in 2 sessions – Presentation and Q&A sessions. One of the senior SONEUK members, Mr. Anjani Phuyal had presented various potential risks when we use the Internet for our normal daily lives and explained how to identify these and mitigate risks. He also took questions from the participants.
The training was organised based on high demand shown by SONEUK members through an online survey carried out on its Facebook survey. Opening the event, SONEUK General Secretary Dr. Bidur Ghimire welcomed all the participants and also, introduced the training programmes with the participants. The training sessions were coordinated by SONEUK Executive Committee member Mr Hari Nepal, on behalf of Training and CPD sub-committee, SONEUK. Mr. Nepal provided a brief introduction of the resource person and also briefly described what to expect during the training session.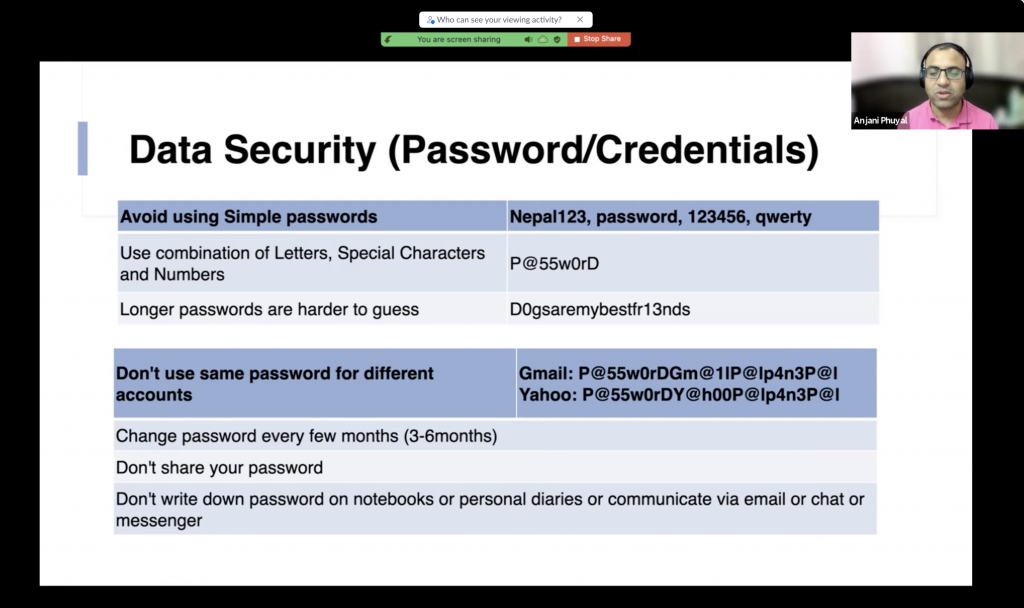 During Q&A session, participants were actively engaged in learning and also showed high level of enthusiasm about the training topic by sharing their own experiences. All the participants including very senior members of the society admired the content and the delivery of the training. They also emphasised that it was very useful for everyone as the Internet is now a part of our lives.
The event received very positive feedback from all the participants. The event was concluded with a vote of thanks from SONEUK Vice-Chairperson Mr Narad Bhandari.
Certificates for the training can be downloaded from here.