Society of Nepalese Engineer in UK (SONEUK) conducted a Youth Seminar Series, first of its kind titled 'Career Support' over video conferencing platform Zoom. Enthusiastically attended by more than 62 audience at various stages of their engineering career in the UK, the program was mainly focussed for young Nepalese engineers across a range of faculties of engineering including Civil, IT, Electrical, Mechanical and Aerospace.
Opening the evening event, SONEUK General Secretary Dr Bidur Ghimire introduced the audiences with the programmes and its objectives. He emphasised that the program was exclusively targeted to recent engineering graduates and those in their early career stage, in order to provide them with support through information and advice from recruiters and senior experts and resource persons from within the society. Conducted by Dr Ghimire, the event, which was open to the general public, lasted for nearly three hours.
SONEUK Vice-Chairperson Mr Narad Bhandari welcomed all guests and requested them to take the event as an opportunity to progress in their career goal and help others do so as well.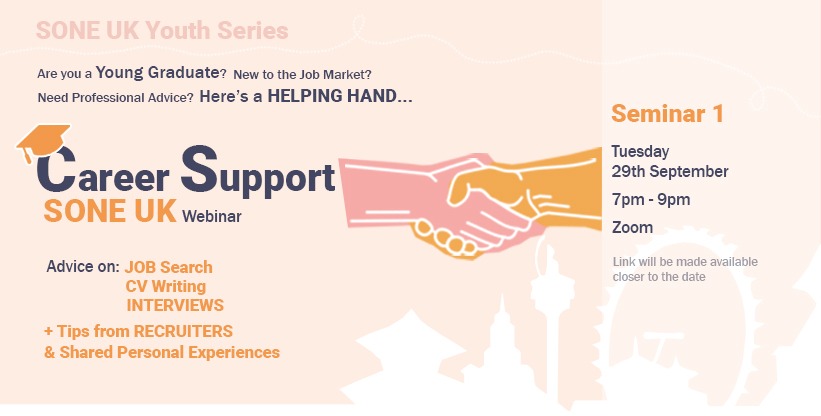 The seminar was started with Civil Engineering session, in which senior civil engineering professionals Mr Rajesh Pathak, Mr Ganesh Thapa and Mr Laxman Ghimire delivered relevant career advices as resource persons by presenting useful information for the young engineers and they also answered various questions from young engineers.
The second session of the seminar focussed on IT and Computer Engineering, in which Mr Matthew Elstow from Oliver Bernard and SONEUK senior professionals Mr Rajan Lamichhane and Mr R C Adhikari contributed as resource persons, presenting very useful information. Both the career advice presentations were well received by the audiences making way for interactive discussions.
The third and final session was dedicated to Electrical Engineering career, in which senior professionals Mrs Yukti Gurung and Dr Roshan Bhattarai as resource persons provided valuable information that invited lively interaction with the audience.
QA sessions for all three sessions were conducted by SONEUK Youth Mobilisation Subcommittee comprising the Coordinator Mr Mohammad Ansari, and members Ms Megha Paudyal and Ms Priyanka Regmi. Member of the subcommittee Mr Akshaya Chapagain also presented his experience as a young Civil Engineering professional in the UK. The event was actively participated by young engineers raising a number of questions including but not limited to job search, better CVs, sponsorship and internship opportunities, and effects of COVID in the engineering industry and new recruitments.
The seminar was concluded with a vote of thanks by SONEUK Chairperson Mr Sanyukta
Shrestha.
To watch the video recording of the event, please click here.