UPCOMING EVENT – Youth Seminar Series, (2022-2024) 
How to make a job wining CV
How to prepare for an interview
Date: Saturday 17th December 2022
Time: 02 PM – 04 PM
Venue: Online on MS Teams
 PAST EVENTS –
      CPD and Training Series (2022-2024) AutoCAD 2D & 3D
Auto CAD 2D and 3D
Hybrid Session- Free for Active SONEUK Members, non-active members and public £10
Date: Saturday 19th November 2022
Time: 11 AM – 01 PM
Venue: SOUTH PARK PAVILLION, ARMSTRONG ROAD, MAIDSTONE, KENT, ME15 6AZ

SONEUK Dashain Tihar Dhamaka, 2079 
DASHAIN Tihar Dhamaka, 2079
An Evening full of non-stop entertainment
Date: Saturday 22nd October 2022
Time: 3 – 8 PM
Venue: Amar Hall, 21 East Hill, Dartford, DA1 1RX

Annual International Conference 2022

Title

Engineering and Technology for Sustainability

Date

Saturday 9th July 2022, 10:00AM – 5:00 PM

Venue 

Nepal Authentic Dining, 23 Boston Parade, London, W7 2DGP
☛ Click here for CONFERENCE SCHEDULE
☛ Click here for ONLINE REGISTRATION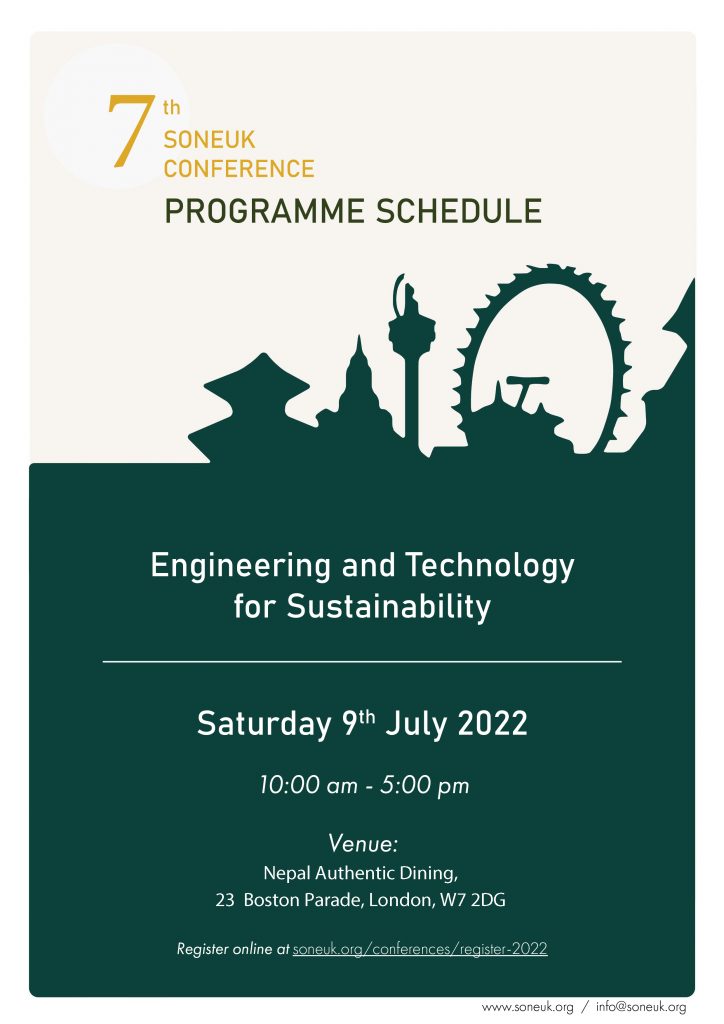 ---
 NEWS – SONEUK signs MoU with Kathmandu University
 Excel TRAINING

Title 

MS Excel in Engineering

Date

Saturday 26th Mar 2022

Venue 

Online Video-Conference
For full Press Release, click here
 PAST EVENT – ENERGY SEMINAR

Title 

Future Energy Scenario: Sustainability with Renewables

Date

Saturday 8th Jan 2022

Venue 

Online Video-Conference
For full Press Release, click here

 PAST EVENT – Cybersecurity Training

Title 

SONEUK Training on Cybersecurity

Date

Saturday 20th Nov 2021

Venue 

Online Video-Conference
For full Press Release, click here

 PAST EVENT – Annual General Meeting 2021

Title 

Annual General Meeting (mid term)

Date

Saturday 11th Sep 2021

Venue 

Harrow, London & Online Video-Conference
For full Press Release, click here
 PAST EVENT – SONEUK Youth Event Series 3

Title 

Mock Interview Workshop

Date

Saturday 31st Aug – 1st Sep 2021

Time 

7:00 PM – 8:00 PM
Interviewers Laxman Ghimire, Narad Bhandari, Roshan Bhandari, Rudra Poudel, Deepak GC
Faculties Civil, Construction, Electrical, IT
For full Press Release, click here
 PAST EVENT – SONEUK Annual Conference 2021

Title 

Engineering Challenges & Opportunities: Post COVID-19

Date

Saturday 10th July 2021

Time 

9:30AM – 5:00 PM
For Conference Schedule Click here
For a digital copy of the Proceeding Click here

 RECENT EVENT – UK-NEPAL COVID-Support Seminar

Jointly organised with 

Embassy of Nepal in UK, Nepalese Doctors' Association in UK (NDAUK), Pasa Puchah Guthi UK (PPGUK) London, Britain-Nepal Chamber of Commerce (BNCC), and Non-Resident Nepalese Association UK (NRNAUK)
Speakers: Ambassador of Nepal HE Lokdarshan Regmi, SONEUK Chairperson Sanyukta Shrestha, NDAUK President Dr Ramesh Khoju, PPGUK London President Ms Rukmani Manandhar, BNCC President Dr Kapil Rijal, NRNAUK President Ms Poonam Gurung and Vice-President Ms Rojina Pradhan Rai
Date: Saturday 10th May 2021
For full Press Release, click here
 RECENT EVENT – An Intro to Building Information Modelling

An overview of the use of BIM throughout the life-cycle of building and infrastructure projects

Resource Person: Dr. Ramesh Marasini
Date: Saturday 1st May 2021
For full Press Release, click here

 RECENT EVENT – Nepali New Year Celebration

 RECENT EVENT – DISSERTATION & THESIS AID FOR STUDENTS

TALK: An Interaction Session with Prof Hom Dhakal & Prof Keshav Dahal

Approach, structure, methodologies, research question and answer session with professors.
Date: Saturday 30th January 2021
 

RECENT EVENT: An Interaction with Dr Mahabir Pun

TALK: An Interaction Session with Dr Mahabir Pun

Technology Access, Rural Education, National Employment, Engineering Innovations & Fight against COVID-19
Date: Saturday 2nd January 2021
Click here to watch on YouTube.
  RECENT EVENT – TRAINING
  RECENT EVENT – SOCIAL

DASHAIN DABALI – दशैं डबली

Fun filled event with talent show (music, singing, etc) and Charity BINGO game
Date: Saturday 24th October 2020 (Maha-Ashtami)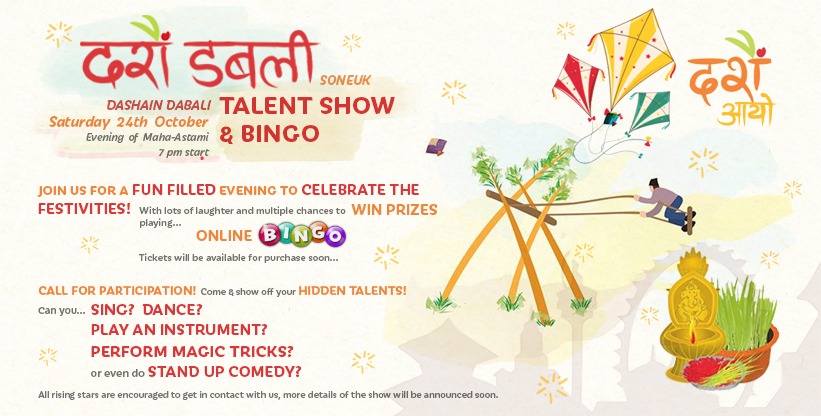 RECENT EVENT – YOUTH

Youth Seminar Series 1 – Career Support


Date: Tuesday 29th September 2020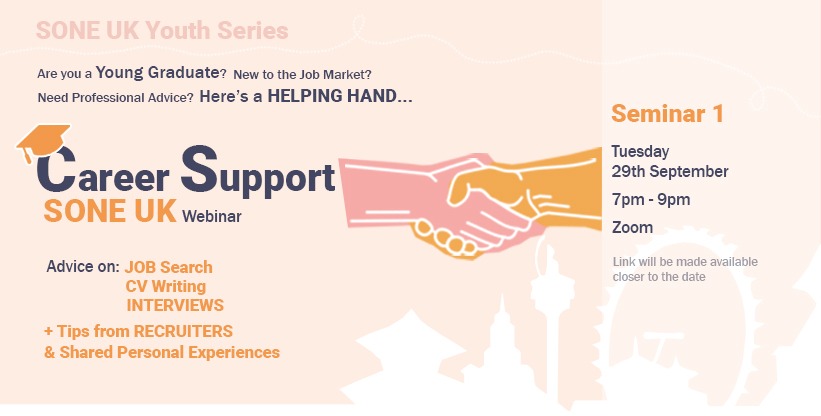 RECENT EVENT – AGM

Annual General Meeting & Election


Date: Saturday 29th August 2020
Via Zoom Meeting
For further details of election please click here.

---

  

OUT NOW

Promoting cultural change in engineering practices for the Development of Nepal: Learning from the UK


Proceedings of 5th SONEUK Conference


Click here to download.





---

  

MEMBERS AREA

SONEUK Members receive an exclusive benefit of finding out other members from any selected background or a particular region from within UK. This service can be accessed from the website but the members need to login with their credentials they received from membership officer. To login, please click here.

---

Stay up-to-date about us through this website or feel free to write to us.